Free PDFs and other Updates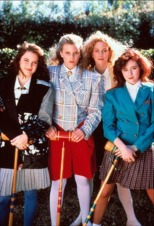 Since the explosion in the computer labs it has proved troublesome to get online recently. So we are a little behind with the news. So pay attention at the back and we'll bring you up to speed.
We've added Hellcats and Hockeysticks to the 'Bits and Mortar' scheme. Which means that if you buy direct from the Cubicle 7 webstore we'll send you a free pdf with any print purchase.
The girls also allowed the writer of Hellcats out of the basement to do a Podcast for Cubicle 7. So you can hear him chat about Hellcats, Victoriana and his other work at 'It Came from the Cubicle'.
Those of you who have been paying attention to your German lessons (oh who am I kidding?) may be interested in our first international review from the Spieletest website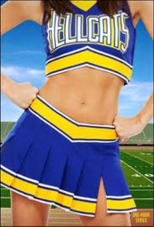 One of our ex-sixth formers Alene Medder reminded me that shamefully we had forgotten to add the 1989 film 'Heathers' to the inspirations list. Shocking! We're still not sure if we should add the new series entitled 'Hellcats' to the list yet. Although from the first episode it seems this series of Cheerleader shenanigans is not a bad effort for a group of American girls.
Finally, another one of our ex-pupils, the charming Mickey Schulz gives our game a mention on her blog and podcast at 'Geek Girls Rule' a sentiment shared by so many St Erisian's girls.
Thats all for now, class dismissed!